Antique Red Transfer Bowls Trays Gravy Taylor Smith, Johnson Bros, Thos Hughes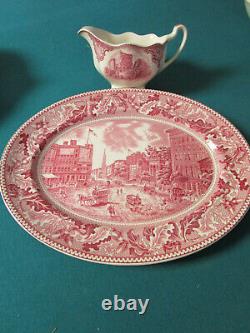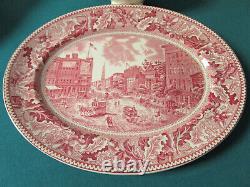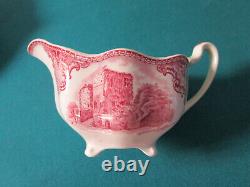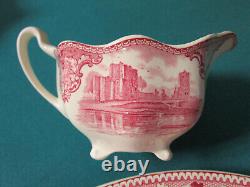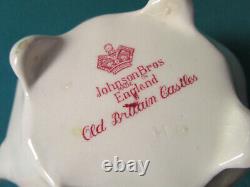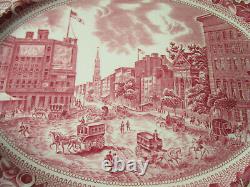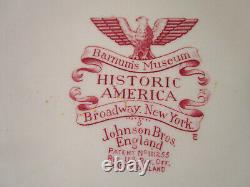 Wood items, basket, music boxes. Stein, Cookie Jar, Jar, Canister. ANTIQUE RED TRANSFER BOWLS TRAYS GRAVY TAYLOR SMITH, JOHNSON BROS, THOS HUGHES. RED TRANSFERWARE ANTIQUE BOWLS TRAYS GRAVY BOAT TAYLOR SMITH, JOHNSON BROS, THOS HUGHES. 1- TAYLOR, SMITH, TAYLOR, VIRGINIA, USA 1910s PLATE, 10 [RED] AGE STAIN IN BORDER, ONE CHIP ON BACK NOTICED IN PIC.
2- Thos Hughes Son England 1930s AVON COTTAGE PLATE 10 [RAD]. 3- JOHNSON BROS, OLD BRITAIN CASTLES GRAVY BOWL AND OVAL TRAY GRAVY IS 3 1/2 X 6" TRAY 12 X 9 1/2" HISTORIC AMERICA - BROADWAY NEW YORK[FRIENDLYVILLAGEBSKT]. 4- JOHNSON BROS, OLD BRITAIN CASTLES 2 BOWLS 4 SIDED 2 1/2 X 9 X 7", THE OTHER IS 2 1/2 X 10 X 8" [FRIENDLYVILLAGEBSKT]. 5- JOHNSON BROS, WILLOW 2 ROUND BOWLS 2 3/4 X 8 1/2" AND THE OTHER IS 2 3/4 X 10" [FRIENDLYVILLAGEBSKT]. We're proud of the 6,000 + exquisite items we offer you for your consideration.
We make our earnest effort in describing the items. We pride ourselves on our customer service.
ROYAL BAVARIA GERMANY HANDPAINED 2 FOOTED COMPOTE 3 X 4 GRAPES/VINE [78]. RUFFLED BORDER LEAVES GREEN BOWL 2 1/4 X 9 [GL4]. Royal Worcester Pattern Records Collection 8 4 PLATES FLORAL COLLECTION. PETER RABBIT CHINA BY WEDGWOOD 7 3 PLATES [FRONTRACKB]. This listing is currently undergoing maintenance, we apologise for any inconvenience caused.